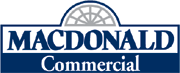 As a dedicated Sales and Leasing company, Macdonald Commercial prides itself on having a team of dedicated professionals with expertise in all areas of commercial real estate, including: apartment buildings, shopping centres, office buildings, retail, industrial, land and other investments. In addition, Macdonald Commercial is the parent company for Macdonald Property Management, which manages over $1 Billion in assets throughout British Columbia.
Western Canada's Largest Real Estate Brokerage
Macdonald Commercial is a division of the Macdonald Real Estate Group of Companies, which provides fully integrated real estate services through its affiliated companies, Macdonald Realty, Macdonald Property Management and Platinum Project Marketing.
Macdonald Commercial first opened its doors over 60 years ago. Today, with 20 offices and over 1,000 agents and staff throughout BC, the Macdonald Real Estate Group of Companies is one of Western Canada's largest real estate brokerage and services firms. Our clients enjoy the unique experience of having all of their real estate needs met by a single company.
Through our personal associations, both domestic and offshore, and our affiliation with Corfac, a global network of highly experienced commercial real estate brokers and property managers, we have access to a wide range of resources that will help you maximize the potential of your investment.